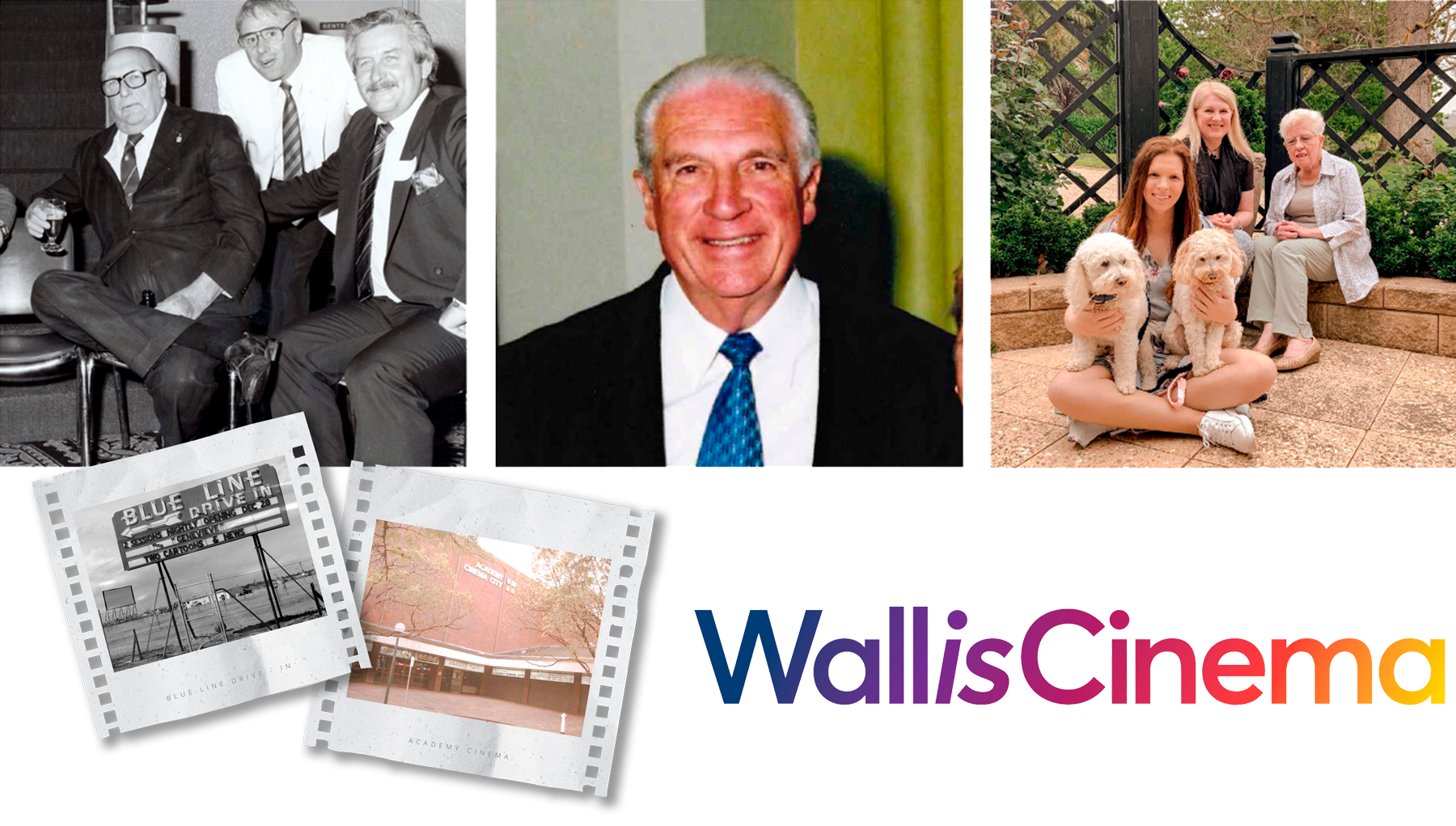 We're Local, we're Family and we have been entertaining people for over 70 years.

From the early days of screening movies in local community halls to the iconic Drive-Ins to the traditional picture theatres and now the modern cinema complexes, the Wallis Family has been entertaining South Australians for 70 years!
It all started with Hughie Wallis' passion for film.  A passion that grew from screening Hollywood classics in community halls to the first South Australian Drive-In – the Blueline at West Beach – opening December 1953. What followed was a stream of Drive-Ins across the city from Gepps Cross to Christies Beach, Modbury, Panorama, Mitchell Park, and Outer Harbour and out into country towns like Renmark, Loxton, Clare, Nuriootpa, Barmera and Berri. Some may still remember the kiosks, the playground, and even pony rides for the kids! 1971 saw the development start on Adelaide's first multi-screen cinema complex at Glenelg, the family leasing the Marryatville Ozone site (Chelsea), and by 1976 the building of the Academy Cinema Centre right in the heart of town.
Prior to Hughie's death in 1994 he had added the historic Piccadilly Cinema and the brand new Noarlunga complex to the impressive stable of cinemas. The reigns were handed over to Hughie's son Robert (Bob) who's passion for entertaining South Australians was as great as his father's. In 1999 Bob purchased the former Barr Smith Residence, Auchendarroch House, at Mt Barker and set about restoring it to its former glory as well as adding a tavern and seven-screen cinema complex to accommodate the rapidly growing area.
In 2007 the opportunity arose to play a part in the redevelopment of Mitcham Square Shopping Centre and the Mitcham Cinema was born. Unfortunately, Bob passed away in 2007 without seeing this development finished, but we know he would be very proud of it today. The company has remained in the safe hands of Bob's wife Lorna, their daughter Michelle and granddaughter Deanna who work tirelessly to keep the Wallis family dream alive and to continue to entertain and employ South Australians (and a few Victorians too after adding the Mildura Cinema to the stable in 2017!)
FUN FACTS:
Hughie Wallis opened Adelaide's first Drive in the Blue Line, also Australia's second Drive In.
Developed the first multi-screen complex in Australia at Glenelg
First Cinema complex with licensed bar – Glenelg
First Cinema chain to introduce Dolby Sound.
Wallis Cinemas was originally "Wallis Refrigeration" who made domestic fridges
Prior to the Blueline opening in 1953, Hugh and Bob used to show films in community halls across the state.
Wallis Cinemas operates a service Booking and Buying film for 90 independent screens across the country – from Katherine to Davenport!!
One employee has been with the company for over 60 years, and most of the management team have clocked up over 30 years each.
Wallis Cinemas was the first fully digitized circuit in Australia
Wallis city location ran "Never Ending Story" for over 3 years!!
Wallis Cinemas held the world premieres for Breaker Morant and Robbery Under Arms.
Wallis Cinemas has a strong community focus and supports local charities with donations and access to film nights enabling charities to raise much needed funds